Daily Specials
No Specials Today
Local Hawaiian Comfort Food
Quality Homemade Hawaiian Food,
Served in Hawaiian Portions
Gourmet dining options at a price the family can afford. Whether it's our World famous Massive pancakes and Kalua Pork Hash, or great lighter fare and vegetarian options, there is something for everyone at the Hawaiian Style Cafe. Serving the Big Islands favorite breakfast menu all day long, so the kids can enjoy french toast or a loco moco, while you savor one of our gourmet steak or pasta dinner specials. Creative local fresh fish specials served daily, including our incredible poke bowls.
We serve beer and wine, as well as a full bar coming soon, with a limited specialty drink menu! Walk-ins welcome, and please don't be scared of a line, we assure you won't wait long to be seated. Eat-in or Take Out – CALL TODAY to place an order.
(Please make sure your are calling the right location)
Logo items & Gift Cards for sale, as well as Hawaiian Style's signature Homemade Portuguese Sausage. Read our Reviews, and find out what others love about Hawaiian Style Cafe.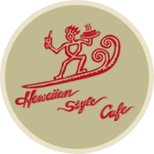 Phone:
Hilo:
808-969-9265
Waimea:
808-885-4295
Address:
Hilo:
681 Manono Street
STE #101
Hilo, HI 96720
Waimea:
65-1290 Kawaihae Road
Kamuela, HI 96743
Email:
info@hawaiianstylecafe.com
Hours:
Hilo:
Mon: 7:00 am – 2:00 pm
Tue – Thu: 7:00 am – 2:00 pm
5:00 pm – 8:30 pm
Fri – Sat: 7:00 am – 2:00 pm
5:00 pm – 9:00 pm
Sun: 7:00 am – 2:00 pm
Waimea:
Mon – Sat: 7:00 am – 1:30 pm
Sun: 7:00 am – 12:00 pm